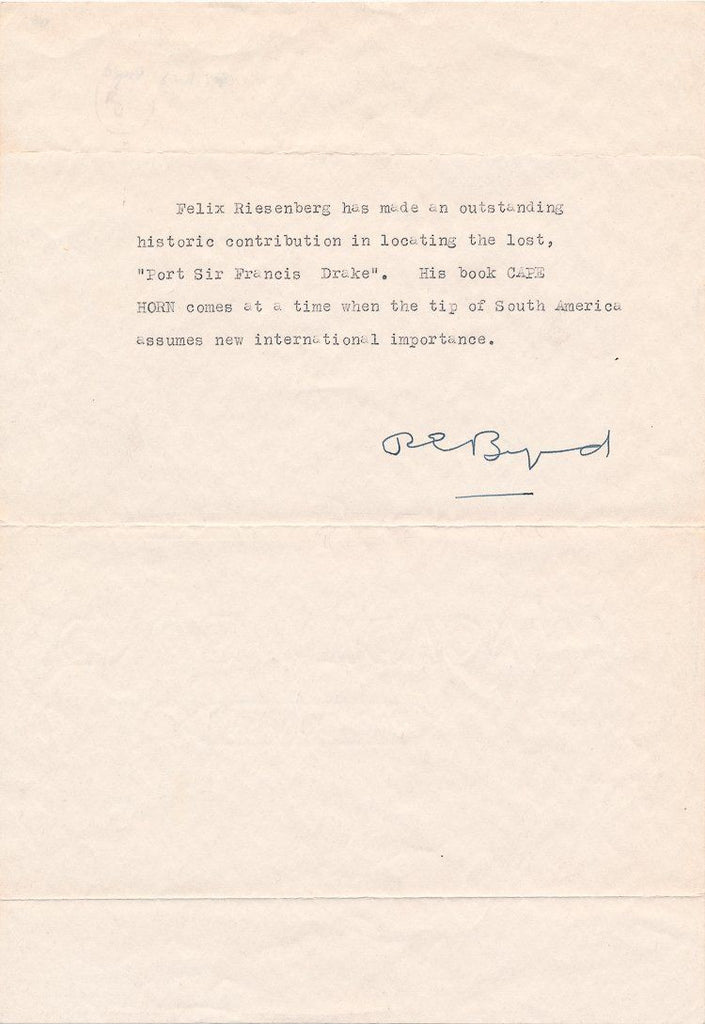 ADMIRAL RICHARD E. BYRD TYPED SIGNED LETTER AUTOGRAPHED SIGNATURE AUTOGRAPH 1938
RICHARD E. BYRD (1888 - 1957) American aviator and explorer, first to fly over the South Pole and established the base "Little America". Typed D.S., 1p. 8vo., [n.p., n.d.], a "blurb" prepared for the book "Cape Horn" by Felix Reisenberg which : "...comes at a time when the tip of South America assumes new international importance..". 
Undated, but would have been written in around 1938, prior to the 1939 publication of Reisenberg's book. Very good. 
Like Byrd, Riesenberg, was a polar explorer. He was hired to be a part of the support crew in an unsuccessful attempt to reach the North Pole by airship in the summer of 1906, and was rehired the following year to be the navigator aboard the three man airship America in a second failed attempt to reach the North Pole in 1907. He was eventually inducted into the National Maritime Hall of Fame at King's Point.
---
Share this Product
---
More from this collection